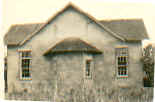 Dedicated October 1952
1915-1916 - dates the very earliest days of Providence Presbyterian Church when a Sunday School was organized at Piney Grove School by Miss Alice Edmundson.
1917 - Dr. Ben R. Lacy and George R. Coopers (ministerial student) pitched a tent on the school grounds, and the first two converts were Mrs. Zeb Byrd and Miss Kittie Stephenson. A lot was donated and some material was placed on the grounds; however, with careful consideration and Divine guidance, the congregation was inspired to secure a lot and build a Church at our present location.
1921 - a church building was erected and was named Providence Mission, a mission of Spence Church. Charter members were: Mr. and Mrs. E. S. Coates, Miss Nannie Coates, Edwin Massengill, Mrs. Sarah Johnson, Mrs. Eula Byrd, Tony Johnson, Mrs. Elsie Barbour, Mr. and Mrs. G. W. McGee, J. P. McGee, Mr. and Mrs. F. Y. Stephenson, Mr. and Mrs. B. J. Beasley, Mrs. Clarence Lee, Mr. and Mrs. John L. Johnson, Mr. and Mrs. Budd Wood, Mrs. Katherine S. Lassiter, Mr. and Mrs. Joe R. Beasley, Mrs. Annie S. King, Mrs. Mary S. Johnson,. Mr. and Mrs. Bennett Massengill, Mr. and Mrs. Zeb Byrd, Miss Kittie Stephenson, Miss Emily Langdon, and Mrs. Lillie B. Barefoot.
1927 - October 30, the Church was organized with three ruling Elders; Ed S. Coates, G. W. McGee and John L. Johnson and three Deacons; J. P. McGee, F. Y. Stephenson, and B. J. Beasley. Rev. Dixon McDonald was pastor and served the field until 1942 when Rev. W. P. Robertson answered the call. During his ministry, he started an outpost, which later became Plainview Church.
PROVIDENCE PRESBYTERIAN CHURCH PASTORS


Rev. F.H. Spence - 1915-1916
Dr. Ben R. Lacy - 1916-1917
Rev. D.M. McGeachy - 1917-1922
Rev. Edwin S.Coates - 1922-1925
Rev. R.E. Henderlite - 1925-1926
Rev. A.E. Lassiter - 1926
Rev. Dixon McDonald - 1926-1942
Rev. W.P. Robertson - 1942-1944
Rev. Donald McMahan - 1944-1945
Rev. James Porter - 1945-1949
Rev. Frank Wilkerson - 1949-1950
Rev. D.H. Dulin - 1951-1954
Rev. Jack R. Dail - 1954-1958
Rev. J.A. McIntyre - 1958-1960
Rev. J.D. Nesselrodt - 1960-1964
Rev. W.B. McSwain - 1964-1965
Rev. J.D. Nesselrodt - 1966-1971
Dr. I.M. Bagnal- Interim
Rev. C.W. Kimbrough - 1973-1979
Rev. James Ray Shroyer - 1981-1986
Rev. Raymond M. Tear - 1987-1995
Rev. C. Mark Scott - 1997-2004
Rev. James Davis - 2007-2019
Rev. Nadia Stropich - 2019-2021
Rev. Roger Korsten - 2021-